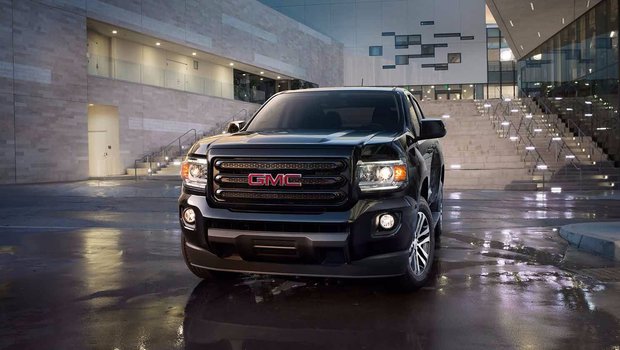 Kipp Scott GMC
A few years ago, the GMC Canyon made a legitimate comeback after taking a bit of a hiatus from the marketplace. Since then, it's been on a serious winning streak.
Yup, small pickups are making a serious comeback. Sure, they're small in size, but they're mighty in size and capability. And there's no denying that the new 2016 GMC Canyon is the top contender amongst them. Loaded with amenities, highly capable and practical, and now available with a diesel mill, the GMC Canyon truly has it all – and at a highly affordable price, as well. This in the market for a compact pickup will definitely not want to miss the GMC Canyon.
The Return of a Revamped Classic
A few years ago, the GMC Canyon made a legitimate comeback after taking a bit of a hiatus from the marketplace. Since then, it's been on a serious winning streak and done nothing short of impress the buying public and media alike. And even though the GMC Canyons is small in stature, it is not small in practicality nor amenities.
For starters, the all-new uber masculine and rugged exterior is appealing for all the right reasons. It truly is designed to take on the best of the best in the compact pickup segment. And it's not just the exterior look that's appealing, the fact that the 2016 GMC Canyon drives and handles very much like a car (despite its very truck-like capabilities). This fact alone opens it up to a huge buying market, and makes it all the more appealing.
At the moment, there are four Canyon models to choose from; and regardless of model chosen, be it SL, Canyon, SLE or SLT, a 2.5L DOHC 4-cylinder engine is standard and produces 200 horsepower and 191 lb-ft of torque. There's also an optional 3.6L V6 that pushes out 305 horsepower and 269 lb-ft of torque available on all Canyon models (except for the SL model).
And if those engine choices weren't good enough, there's also a 6-speed manual transmission available on the Canyon SL. If you don't opt for the manual, you'll find a 6-speed automatic coupled to your engine choice. There is also a standard 2-speed transfer case with electronic control (available on all but the SL).
Most notable, for the first time, the 2016 GMC Canyon is offered with an all-new Duramax 2.8L I-4 turbo diesel engine that produces 181 horsepower and 369 lb-ft of torque and is available on only SLE and SLT models.
Efficiency and Offroad Capability Combined!
And if it's the un-explored path you want to embark with the brand new 2016 GMC Canyon, there is an available off-road package that includes Z71 off-road suspension, hill-decent control, auto-locking differentials (on 2WD only), as well as all-terrain tires, and a transfer case shield (4WD only).
Options are highly necessary with pickups, to make them ideal for any and every job you put them on, and so the 2016 GMC Canyon offers a range of box/cab combinations to ensure your new Canyon is perfectly suited to any job you put it on. The2016 Canyon is available with a 5'2" or 6'2" Crew Cab box. If that's not enough, there is also an available Extended Cab that features a 6'2" box. If you opt for the Crew Cab you'll find available seating for five. That drops to four with the Extended Cab.
To find out more about the new 2016 GMC Canyon, head down to your local Kipp Scott GM dealer to speak to one of our experts. And don't forget to book a test drive, too.